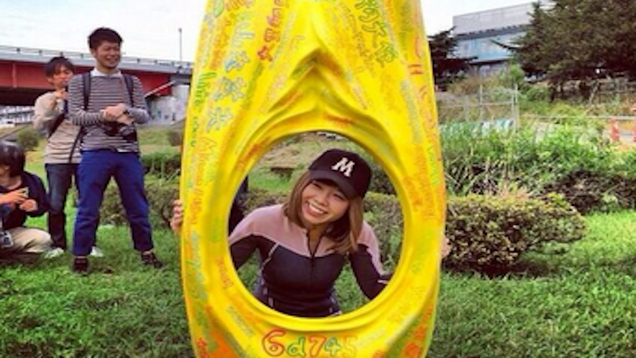 Japanese artist Rokudenashiko was arrested after turning her vagina selfie into a 3-D printed "pussy boat" and sending the scans to her supporters from a crowdfunding campaign. Police said that sending the scans (which could be used to 3-D print more vagina selfies) breaks Japan's obscenity laws.
The Guardian reports that the artist, whose real name is Megumi Igarashi, could face up to two years in jail or a fine of about $24,500 if convicted. Rokudenashiko has denied the allegations and questioned why the scans are being called obscene. She explains her vagina-themed art this way: "I wanted to make pussy more casual and pop."
In her crowdfunding campaign pitch, Rokudenashiko offered mock-ups of the boat and this explanation of why she needed a 3-D printer:
I wanted to make pussy more casual and pop. That's how I came to make a pussy lampshade, a remote-controlled pussy car, a pussy accessary, a pussy smartphone case, and so on. … However, mold by hand has the limitation. … [It's] not suitable for making large art pieces such as a pussy door, a pussy car, or a pussy boat. I was wondering how I can make it possible, and then I finally found that 3D scanner can make it happen easily!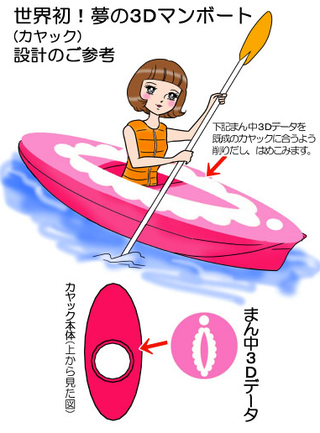 EXPAND
Rokudenashiko did make the boat, and she's committed to continuing her art. "Pussy has been such a taboo in the Japanese society," she writes. "Penis, on the other hand, has been used in illustrations and signed as a part of pop culture. But pussy has never been so cute."
[Images via The Guardian, Rokudenashiko
Anonymous said: How do you gather your resources for determining what is and what is not Japan? Like you aren't Japan. You are a human, I think. How many Japanese people must agree with you on what is and is not Japan? 5, 10, 100, 500, 1000000? How do you gather these opinions? Do you send out surveys, look another peoples surveys, or just assume? I really don't care for Japanese pop culture and I just want to make sure what I can joy without risking emulating Japan.
Nope this is just their opinion because they are bigots. Dont worry most modern japanese dont share it with them. I noticed they tag everything that goes against them with "white person" its pretty sad how childish and naive it is actually. 

I have an overwhelming suspicion that you sent this. You type the same, use the same words, and have the same arguments. Your blog is based off of the asker's argument. I have a few other messages similarly worded to this one and present similar attitudes to the ones you share on your blog.